Sea Days are the best for relaxing and having loads of fun:
We'll have lots to keep us busy aboard the NCL Dream, while sailing through the Gulf of Mexico.
Check back here for photos of our days at sea: roughing it by the swimming pools, nighttime images of the moon over the Gulf, Sunrises & Sunset...
We'll be posting pictures of the Synchronized Swimming Classes, Fishing off of the back of the ship, and Underwater Basket Weaving classes (OK, so I may exagerrate), the poolside BBQ's and lots of other fun things. If it happens onboard during our sea days, you'll find it here!
"Live" Deck Cam Image from the Dream
Refreshes every 7 minutes, or so.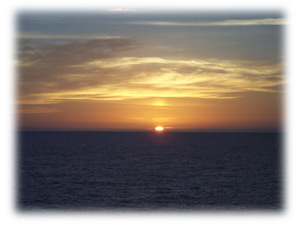 A view out of Mamie's Stateroom window... Taken when she awoke EARLY this morning.

Click for Radar Loop of the Western Caribbean Satellite